1021, 10th floor
,
Spaze i-Tech Park, Haryana,
Blanket Distribution for Poor and Helpless People
November 25, 2020
–
8:00 am
–
5:00 pm
Poor and helpless people
People generally say that a large number of people die of cold, however, we say that they die because of an absence of woolen clothes and blankets. Poor and helpless people sleep in rags at the pathway and roadside and die of cold. These needy people rest near one another during cold waves however how one can rest sufficiently without a cover or blanket in such conditions. They shiver because of the cold breeze the entire evening and some old age people die from these waves.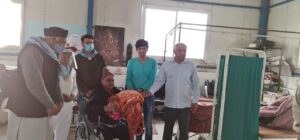 The Sankesh Global Foundation distributed woolen blankets to these needy people so they might have the option to shield themselves from the cold on winter nights. For relaxation from the cold, more than 150 helpless and needy people on the side of the road got blankets, food, and old woolen clothes. We additionally circulated something similar in the Earth Savior Foundation(Faridabad) of Mr. Ravi Kalra.
Every one of them was glad to get the blankets and were likewise energized that now they would have the option to have a sound rest on cool nights. The drive of the Sankesh Global Foundation positively affects local people. Every one of the local people approached to help such poor and destitute individuals and gave them their clothes. Every one of the poor beneficiaries liked Sankesh Foundation for what they did and said thanks to them for their humanitarian assistance and public interest.
Details
Date:

November 25, 2020

Time:

8:00 am – 5:00 pm
Event Navigation